NORTH VANCOUVER REAL ESTATE - "North Shore's Nature-Loving Neighbourhood"

LOCATION AND NEIGHBOURHOOD
North Vancouver is located on across the water from Downtown Vancouver. Surrounded by the local mountains, Cypress Mountain, Grouse Mountain and Seymour Mountain. North Vancouver is made up of a number of different neighbourhoods:
Grouse Woods

Canyon Heights

Capilano Highlands

Capilano

Pemberton Heights

Pemberton

Norgate

Forest Hills

Delbrook

Hamilton

Upper Lonsdale

Central Lonsdale

Lower Lonsdale

Braemar

Tempe

Boulevard

Queensbury

Lynn Valley

Westlynn

Calverhall

Lynnmour

Seymour

Blueridge

Windsor Park

Indian River

Roche Point

Woodlands S.C

Deep Cove

Dollarton
HISTORY & MARKET
North Vancouver is a range of apartments and condos and also many family homes. It is the perfect city for families or couples with a love for outdoors and nature.
SCHOOLS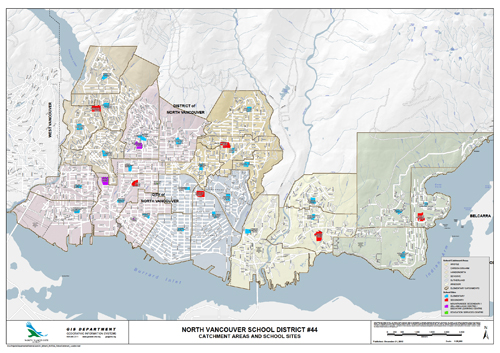 Elementary School
Blueridge Elementary - 2650 Bronte Dr, North Vancouver, BC
Boundary Elementary - 750 East 26th Street North Vancouver, B.C.
Braemar Elementary - 3600 Mahon Ave North Vancouver, BC
Brooksbank Elementary - 980 13 St E, North Vancouver, BC
Canyon Heights Elementary - 4501 Highland Blvd, North Vancouver BC
Capilano Elementary - 1230 20th St W, North Vancouver BC
Carisbrooke Elementary - 510 Carisbrooke Rd E, North Vancouver, BC
Cleveland Elementary - 1255 Eldon Rd, North Vancouver, BC
Cove Cliff Elementary - 1818 Banbury Rd, North Vancouver BC
Dorothy Lynas Elementary - 4000 Inlet Cres, North Vancouver, BC
Eastview Elementary - 1801 Mountain Hwy, North Vancouver BC
Highlands Elementary - 3150 Colwood Dr, North Vancouver, BC
Larson Elementary - 2605 Larson Rd, North Vancouver, BC
Lynn Valley Elementary - 3207 Institute Rd, North Vancouver, BC
Lynnmour Elementary - 800 Forsman Avenue, North Vancouver BC
Montroyal Elementary - 5310 Sonora Dr, North Vancouver, BC
Norgate Community Elementary - 1295 Sowden Street North Vancouver BC
Queen Mary Community Elementary - 230 Keith Rd W, North Vancouver, BC
Queensbury Elementary - 2020 Moody Ave North Vancouver BC
Ridgeway Elementary - 420 8th St E North Vancouver BC
Ross Road Elementary - 2875 Bushnell Pl, North Vancouver, BC
Seymour Heights Elementary - 2640 Carnation St North Vancouver BC
Sherwood Park Elementary - 4085 Dollar Road North Vancouver BC
Upper Lynn Elementary - 1540 Coleman Street North Vancouver BC
Westview Elementary - 1660 Bewicke Ave, North Vancouver, BC
Secondary Schools
Argyle Secondary - 1131 Frederick Rd, North Vancouver, BC
Carson Graham Secondary - 2145 Jones Ave North Vancouver BC
Handsworth Secondary - 1044 Edgewood Rd, North Vancouver, BC
Mountainside Secondary - 3365 Mahon Ave North Vancouver BC V7N 3T7
Seycove Secondary - 2145 Jones Ave North Vancouver BC
Sutherland Secondary - 1860 Sutherland Ave, North Vancouver, BC
Windsor Secondary - 931 Broadview Dr, North Vancouver, BC
EVERYDAY LIFE STYLE – FITNESS, SHOPPING & RESTAURANTS
Grocery Stores
Real Canadian Superstore is located at 333 Seymour Boulevard. Known for having affordable prices, you can find everything you need from washroom supplies to organic and gluten free products.
The Famous Eastern Canadian grocery store, Loblaws City Market at 1650 Lonsdale Avenue, is the only one located in British Columbia. Find all your needs from fresh deli produce and clothing from Joe Fresh.
Fitness
Steve Nash Fitness World

1989 Marine Dr
www.snclubs.com

604 986 3487

Genesis Athletic Club
Suite 125-949 West 3rd Street
www.genesisathleticclub.com

604-986-9177

Level 10 Fitness
110-890 Harbourside Drive

604 985 8910

Griffins Boxing & Fitness

125 West 1st Street

604 980 1900

Birkram Yoga North Vancouver

856 West 15th Street

http://www.bikramyoganorthvan.com/

604 904 9642

YYoga Northshore Elements

1233 Lynn Valley Road

604 987 0308
Shopping
North Vancouver has many shopping centres spread out all over the city. Their largest shopping mall is Capilano Mall. A short drive away in West Vancouver is Park Royal Shopping Centre; It features all of the latest chain stores and as well as The Village at Park Royal, an outdoor mall.
ATTRACTIONS
Local Mountains – Cypress, Grouse and Seymour
North Vancouver is home to Cypress Mountain, Grouse Mountain and Seymour Mountain. All located a short drive away from the city. Public Transportation is available to get to all the mountains. Open during the summer months is Vancouver's Famous Grouse Grind. Many tourists and locals hike up the mountain for leisure and exercise.
View my listings to see North Vancouver Condos for sale.